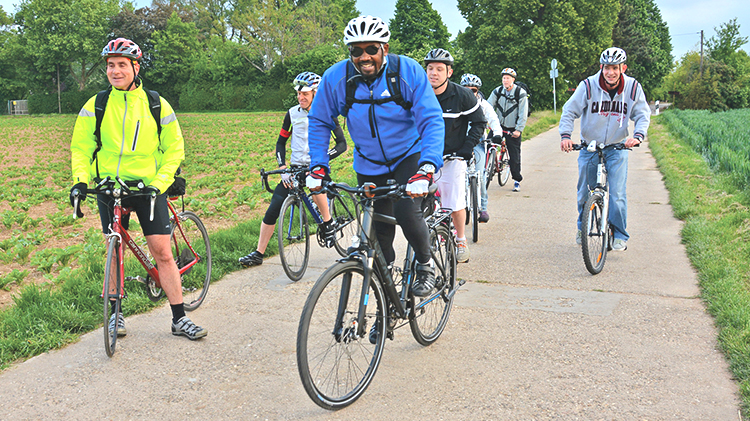 Bike to Work Week Seminar
Note: This event has already passed.
Date: May 13 2019, 7 a.m. - May 17 2019
Kelley Rally Tent near the Broadway Cafe and Patch Rally Tent adjacent to the Army Post Office
Join us for the annual Bike to Work Week, a Strong B.A.N.D.S. event.
This all-volunteer activity supports and encourages bicycle commuting for the Stuttgart military community. Our purpose is to "Educate and inform community members of bicycle commuting benefits, ease, and safety considerations. To encourage you to try bicycle commuting or to make your commute better, safer and more fun."
The Rally Tents are open daily from 7:30 - 8:30 a.m. and 11 a.m. - 1 p.m. with free biking tips and info, maps, ride guides, snacks, and drinks.
Daily Seminars at each Rally Tent from 12 - 1 p.m. and topics include:
Monday, May 13: "Bicycle Commuting How-To and Choosing the Right Bike"
Tuesday, May 14: "Gear, Safety and Lighting plus E-Bikes"
Wednesday, May 15: "Do It Yourself Bicycle Maintenance"
Thursday, May 16: "Family Cycling"
Friday, May 17: "Bike Europe" + Group Ride and Prize Raffle
For detailed information check out the Bike to Work Week Info Sheet
Finally, we'll wrap up the week with a Group Ride adventure exploring the local bike trails while enjoying the regional scenery, food and drinks. This ride departs at 3 p.m. on Friday from BOTH Patch and Kelley and takes approximately 2.5 hours over about 25 miles. There is something here for everyone-so please take this opportunity to explore bicycle commuting and learn how to give it a try.