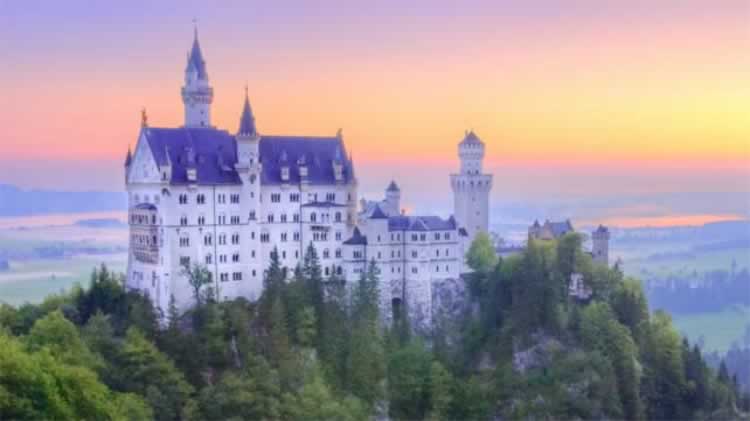 Date: May 20, 12 a.m.
Join us on an overnight trip that will take you to three of Bavaria's most-loved and iconic castles - Linderhof Palace, Neuschwanstein Castle, and Hohenschwangau Castle. 
On Saturday we will head to Linderhof Palace in Ettal, Germany.  While we are there we will enjoy a guided tour of the fully furnished palace that was in use during King Ludwig's lifetime.  We will also have free time to wander through the sweeping gardens, visit the grotto, and see the other stunning buildings on the property.  Afterwards we will drop off our stuff in our hotel and head to Garmisch for the evening. 
On Sunday we will head to Schwangau.  There we will be astounded by the wonders of Hohenschwangau, a medieval castle that was purchased and rebuilt by King Maximillian II (Ludwig's father) and is one of King Ludwig's favorite childhood homes.  The interior is complete and resplendent with artifacts belonging to the royal family. After touring the Hohenschwangau castle we will visit Neuschwanstein that ironically was never intended for the public eye, but now is visited by millions of visitors each year from all over the world.  It is one of Germany's most recognized building and was the inspiration for the Sleeping Beauty Castle at Disneyland. After vising both castles you will still have time for a leisurely lunch, souvenir shopping, and a visit to the Museum of the Bavarian Kings, before heading back to Stuttgart. 
This trip historically fills up fast, so reserve your seat today! 
Price covers transportation (MWR van), lodging (single or double rooms available), entrance and guided tour of Linderhof Palace, Hohenschwangau and Neuschwanstein castles, and ODR escort. 
Participants need to pack weather appropriate clothing and shoes, toiletries, euros for meals and souvenirs, sun protection, camera, medication, and their sense of adventure. 
Strollers and large bags will not be allowed in castles.  Please plan accordingly. 
• Depart Outdoor Recreation at 7 a.m. on Saturday.
• Return to Outdoor Recreation late evening on Sunday.
Cost
• Adults = $249
• Youth (17 years and under) = $229
Registration Info
To register for any of our trips or tours, please come by our office on Panzer Kaserne or give us a call during normal business hours (Monday, Thursday, and Friday: 9 a.m. - 6 p.m. and Saturday 9 a.m. - 1 p.m.). All participants must be 18 years old to attend event/trip/tour by oneself. Minors must be accompanied by a parent/guardian. All trips are subject to change. Trips may be cancelled due to lack of participation. Minimum participation must be met by Saturday, May 13, 2017. 
See Trips and tours cancellation policy on main page.
Contact