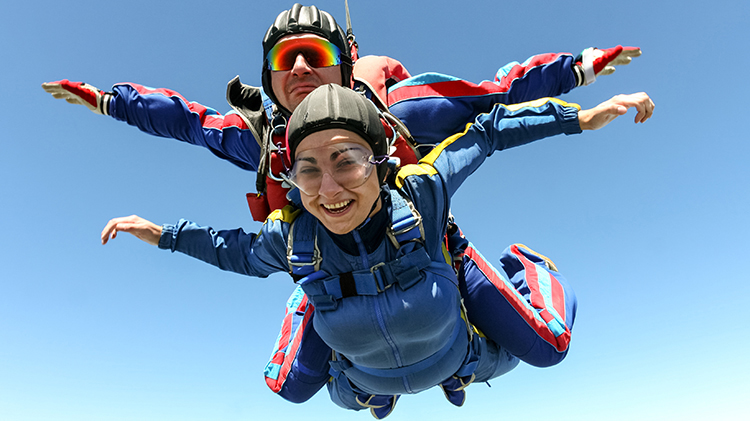 Note: This event has already passed.
Date: Sep 15 2018, 10 a.m. - 6:30 p.m.
Outdoor Recreation - Kelley Barracks Bldg. 3320 Google Map
What provides more of a rush than throwing yourself out of an airplane and hurtling toward the Earth's surface? Not much!
Participants need to wear comfortable clothing and sturdy shoes (for landing). We also suggest that patrons bring something to occupy their time while waiting, and Euros for meals and video (if desired). If you pay for a video with a credit card the vendor will charge a fee.
WARNING: Those appearing intoxicated will NOT be allowed to jump and no refunds will be given – so plan ahead.
Videos available for purchase (let your trip leader know ahead of time).
Wrist camera prices
(camera on wrist of jump master - video or camera) = €68
(camera on wrist of jump master - video and photo) = €93
(camera on another instructor filming you - video or camera) = €98
(camera on another instructor filming you - video and camera) = €123
Participants must be 14 years old to jump
• Trip departs Outdoor Recreation at 10 a.m.
• Return to Outdoor Recreation at approximately 10 p.m.
Cost
• Up to 90 KG (up to 200 lbs.) = $279
• 91 - 100 KG (201 - 220 lbs.) = $309
• 101 - 110 KG (221 - 242 lbs.) = $329
• Stuttgart Warrior Pride Challenge = $100 OFF!!
Price covers transportation, equipment, airport and plane fees, instruction session, and one tandem jump.
Registration Info
To register for any of our trips or tours, please come by our office on Panzer Kaserne or give us a call! You may also sign up for ODR trips at the MWR Tours office.
All participants must be 18 years old to attend event/trip/tour by oneself. Minors must be accompanied by a parent/guardian. All trips are subject to change.
Trips may be cancelled due to lack of participation. Registration deadline is 10 days prior to trip.
See Trips and tours cancellation policy on main page.
Contact