MWR Tour: Strasbourg & Riquewihr French Village Tour
Riquewihr is nicknamed "The Gem of the Alsace Vineyards." Come along to see why!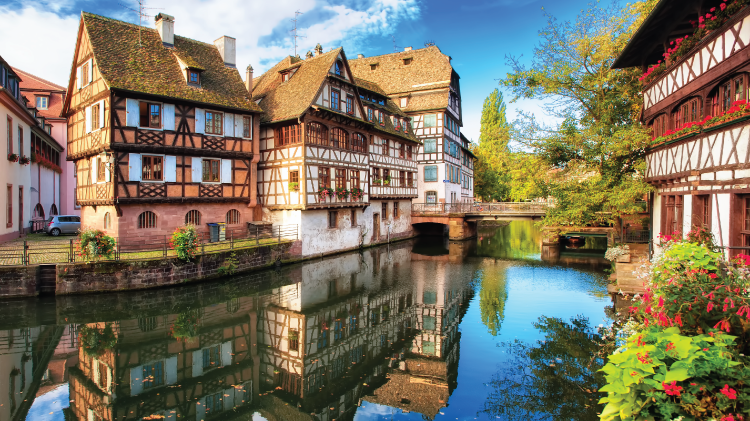 Riquewihr is a unique and cozy old town, made up of half-timbered houses, dating back to the 15th century, built very close together and the Dolder, a 13th century defensive gate, creating an exceptional architectural maze. Situated between the peaks of the Vosges Mountains and the Plain of Alsace, Riquewihr is a medieval town right in the heart of the Alsatian vineyards, ranked among the most beautiful villages in France. For centuries, this magnificent town has managed to combine the quality of its architecture with the quality of its world-famous wines, from where it gets its nickname "The Gem of the Alsace Vineyards." Riquewihr, not to be missed when visiting Alsace, feels like an open-air museum given that it's managed to reserve its authentic character behind its city walls, which are now besieged only by vines.
After visiting Riquewihr, transfer over to Strasbourg. It is indeed one of Europe's most beautiful cities. From the imposing Cathedral with its intricate carvings, to the picturesque houses and canals of Petit France, all of this makes Strasbourg a very popular tourist destination. Strasbourg is currently considered the legislative and democratic capital of the European Union. Your tour guide will provide you with all the details of this well-preserved medieval, but modern, city. Enjoy going up the many steps of the Notre Dame of Strasbourg and experience the beautiful views of the city, along with the many teddy bear decorated window frames, along the most gorgeous half-timbered houses scattered around the city-center.
Cost
$85 per person.
Stuttgart Warrior Pride Challenge (SWPC) is taking 50% of this tour for its members! Reach out to ASAP for more information on SWPC.
Registration Information
Register with MWR Tours in person, over the phone, or via Webtrac by May 23.
MWR Tours

Military DSN (314)596-2104