MWR Adventure Tour: Austrian Via-Ferrata (Klettersteig)
Via-Ferrata in Italian, or "Klettersteig" in German, is a rock climbing technique that uses ramps, ladders, bridges, and steal ropes. Think you're adventurous enough to try?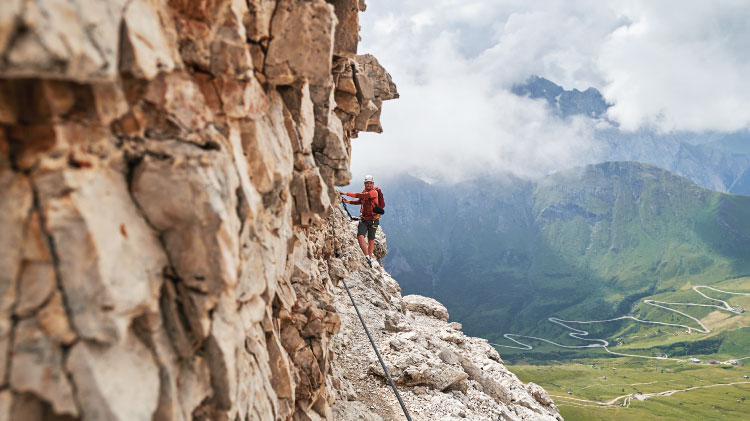 Ever wanted to rock climb, but don't want to bother with belay techniques or rope knots? Via-Ferrata in Italian, or "Klettersteig" in German, is an activity that originated in Italy and consists of a trail along a rock face. It combines hiking and climbing, so you tend to move upwards, using ramps, ladders, bridges, beams, etc.
By now, you probably understand that this is a vertical activity!
Don't worry though, you are attached with a lifeline, so this is a safe adventure. The aim is simple: to get some unusual viewpoints.
How does it work? This via-Ferrata is freely accessible. First, you need to get a harness and a helmet, then your expert lead will guide you up and teach you the ease of the carabiners! You'll learn how to use the carabiners to stay clipped on and safe at all times, even when you're high up!
The fitness level for this one is beginner to medium. Pull your own body weight and have some flexibility to climb up in some parts.
You may overcome a small fear of heights, but anyone with a true fear should consider not joining. You should also be comfortable climbing through uneven surfaces to approach the entrance and exit of the climb.
Join us for this unique experience only Europe offers with fun and secure lines, while enjoying the outdoors without worries of falling, since you're always attached!
Cost
$85 per adult, $80 per child. Price includes transportation and all necessary equipment.
Registration Information
Register with MWR Tours in person or over the phone by May 23.
MWR Tours

Military DSN (314)596-2104