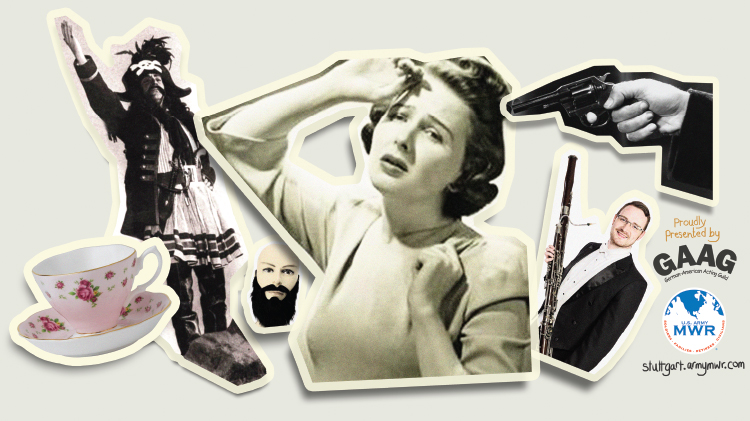 A Coarse Acting Show! (The Original Plays That Go Wrong) Performance
Note: This event has already passed.
Date: May 18 2018, 7:30 p.m.
Stuttgart Theatre Center - Kelley Barracks Bldg. 3320 Google Map
The Stuttgart Theatre Center has been loaned to GAAG (The German-American Acting Guild), a group of would-be American and European actors who just can't seem to get cast anywhere, in the hopes of impressing the audience and producers with an exciting evening of one-act plays and musicals. Intent on showing their range of skills, they have chosen four pieces that they just know will show them off at their best: Streuth (a classic British murder-mystery), Present Slaughter (a Noel Coward style comedy), The Vagabond Prince (a classic European style Operetta) and their tour de force Il Fornicazione (a one-act opera), but things just don't run to plan.
Performances:
• May 18 & 19 and June 1, 2, 8 & 9 at 7:30p.m.
• June 3 & 10 at 3 p.m.
No performance over memorial day weekend
by Michael Green; Additional Material by Richard Roberts
Directed by Richard Roberts
Musical Direction by Alan Buxkemper
Cost
Tickets:
Euro ticket prices are based on the monthly Family and MWR exchange rate.
Registration Info
Reservations are strongly suggested.
To reserve tickets:
use our Ticket Reservation Form on this website
or call the Theater Ticket Office at DSN (314)421-3055 or CIV +49 (0)711-729-3055 Tuesday – Friday from 12:30 – 5:30 p.m.
Season Ticket Reservations begin May 1, 2018 at 12:30 p.m.; Individual Tickets go on sale May 8, 2018 at 12:30 p.m.
The minimum age to attend any performance is 5 years of age.
Contact