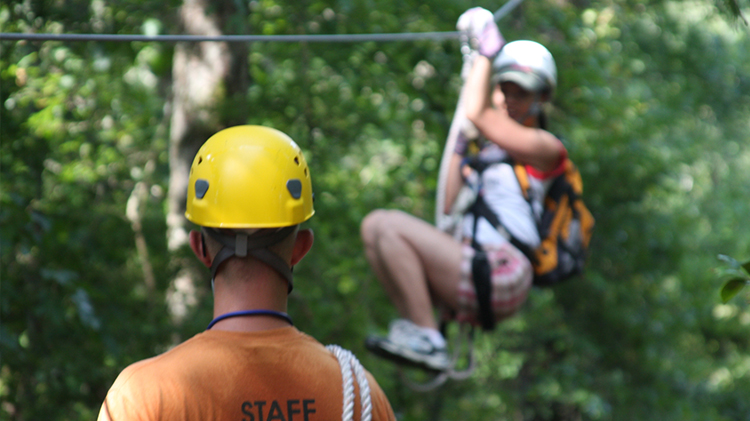 Black Forest Zipline Adventure
Note: This event has already passed.
Date: Oct 14 2017, 10:30 a.m. - 6:30 p.m.
Outdoor Recreation - Panzer Kaserne Bldg. 2953 United States Google Map
Imagine rushing through the air with breathtaking speed. The forest floor shrinks beneath you and the trees look like stars from above. As the air streams by your heart starts pumping pure adrenaline through your veins. Your daily routine has been blown away and replaced with a mixture of pure joy and ultimate freedom. This is how ziplining feels. Well, not exactly – it feels better!
Join Outdoor Recreation as we head deep into the Black Forest for a Zipline Adventure. The Zipline course consists of seven ziplines totaling over 1,600 meters. Each Zipline has an identity all its own. From the gentle, relaxed glide of the Kimmigberg to the ultimate, white-knuckle flight of the Gründle, the longest nature Zipline in Germany. Ziplines range in length from 17 – 570 meters and vary between 9 and 83 meters above the valley floor. Ziplines are connected via picturesque paths and platforms that have purposely blended with natural environment. The Zipline course will lead you over steep rocky slopes, valleys, hills, and creeks. At the end, the short walk back to the starting point will give you a bit of time to mentally sort through the experiences of the day.
Age, weight, and physical restrictions apply. All participants must be 12 years old. Participants must weigh a minimum of 40KG and no more than 115KG (88 lbs. and 253 lbs.). Average physical constitution required. No minors on course by themselves – parent/guardian MUST participate.
Participants should wear sturdy shoes (sneakers and ankle-high boots are best – NO sandals or heeled shoes), comfortable, weather appropriate clothing that is not too loose, change of clothes in case of rain, mosquito repellent/bug spray, sunscreen, and bottled water (no glass containers!). You can also bring along a small daypack if you would like to take personal items with you. Large bags will not be allowed. The use of attached cameras (i.e. GoPros) is welcome but helmets with mounts are limited.
Van departs Outdoor Recreation at 10:30 a.m. Saturday October 14 and returns in the evening.
Cost
Adult (ages 16 and older) = $99
Youth (ages 12 - 15 yrs) = $95
Stuttgart Warrior Pride Challenge = $49 (limited spaces available)
Price includes transportation on MWR mini bus, equipment, instruction, guide, and ODR escort.
Registration Info
To register for any of our trips or tours, please come by our office on Panzer Kaserne or give us a call during normal business hours (Monday, Thursday, and Friday: 9 a.m. - 6 p.m. and Saturday 9 a.m. - 1 p.m.). All participants must be 18 years old to attend event/trip/tour by oneself. Minors must be accompanied by a parent/guardian. All trips are subject to change. Trips may be cancelled due to lack of participation.
Minimum participation must be met by Friday, October 6, 2018. If minimum participation is reached, then registration is open until trip is full.
See Trips and tours cancellation policy on main page.
Contact