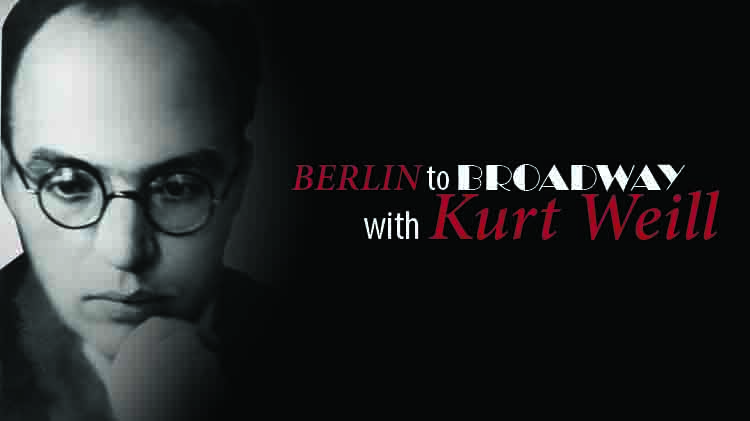 "Berlin to Broadway with Kurt Weill, A Musical Voyage" Performance
Note: This event has already passed.
Date: Feb 16 2018, 7:30 p.m.
Stuttgart Theatre Center - Kelley Barracks Building 3320 Stuttgart, Baden-Württemberg 70567 Germany Google Map
Berlin to Broadway with Kurt Weill: A Musical Voyage is a joyous and moving celebration of Kurt Weill, a cantor's son and one of the most extraordinary composers of the twentieth century. Weill's greatest theatre songs are presented in a fluid blend of music and story, spanning twenty eventful years, from Von Hindenburg and Hitler in Germany to Roosevelt and Truman in the U.S.
Greeted and ushered along by a charming guide, audiences are invited to board the musical vessel that is Kurt Weill's rise to international acclaim.
Setting sail in the Berlin of the1920s, Mr. Weill's cross-continental and international travels are described with immaculately crafted narration, surrounded by the composer's lushest and most noteworthy works – including The Threepenny Opera, Knickerbocker Holiday, Lady in the Dark, One Touch of Venus, and Lost in the Stars. An intoxicating retrospective, Berlin to Broadway with Kurt Weill perfectly fills Weill connoisseurs' cravings and sends those, otherwise unfamiliar with his work, away from the theatre with an appreciation for the musical genius that is Kurt Weill.
Performances:
• Feb.16, 17, 23 & 24 and Mar. 2 & 3 at 7:30 p.m.
• Feb.18 & 25 and Mar. 4 at 3 p.m.
Music by Kurt Weill: Book by Gene Lerner: Lyrics by Maxwell Anderson, Marc Blitzstein, Bertolt Brecht, Jacques Deval, Michael Feingold, Ira Gershwin, Paul Green, Langston Hughes, Alan Jay Lerner, Ogden Nash, George Tabori and Arnold Weinstein
Directed by Richard Roberts
Musical Direction by Alan Buxkemper
Cost
Tickets:
Euro ticket prices are based on the monthly Family and MWR exchange rate.
Registration Info
Reservations are strongly suggested.
To reserve tickets:
use our Ticket Reservation Form on this website
or call the Theater Ticket Office at DSN (314)421-3055 or CIV +49 (0)711-729-3055 Tuesday – Friday from 12:30 – 5:30 p.m.
Season Ticket Reservations begin Jan. 30, 2018 at 12:30 p.m.; Individual tickets go on sale Feb. 6, 2018 at 12:30 p.m.
The minimum age to attend any performance is 5 years of age.
Contact