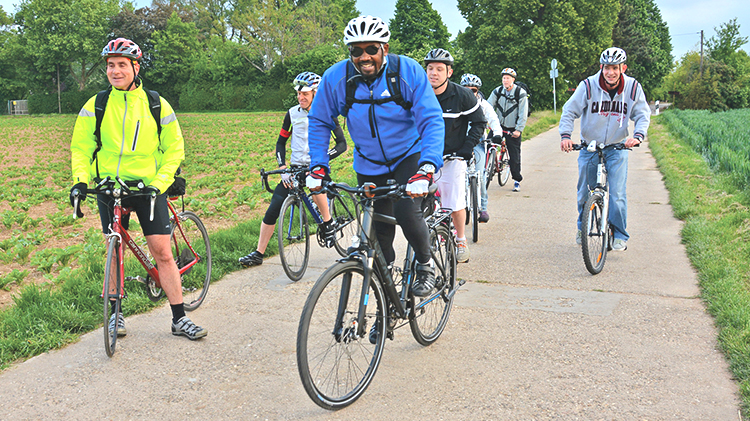 Bike to Work Week Seminar - Bicycling Europe plus Group Ride
Note: This event has already passed.
Date: May 19 2017, 12 p.m. - 1 p.m.
Kelley Rally Tent near the Broadway Cafe and Patch Rally Tent adjacent to the Army Post Office
Join us for the 7th Annual Bike to Work Week, a Strong B.A.N.D.S. event.
This all-volunteer activity supports and encourages bicycle commuting for the Stuttgart military community. Our purpose is to "Educate and inform community members of bicycle commuting benefits, ease, and safety considerations. To encourage you to try bicycle commuting or to make your commute better, safer and more fun."
The Rally Tents are open daily from 7:30 - 8:30 a.m. and 11 a.m. - 1 p.m. with free biking tips and info, maps, ride guides, snacks, and drinks.
HOW WE DO IT:
The "Rally Tents" (both Patch and Kelley) are 'open' every day for your morning arrival-with free fruit and drinks, and during the lunch hour with different 'seminar' topics every day. We encourage cyclists to park their bikes at the rally tent to show support and to invite your friends to come join us for the lunch seminar. Our Daily Seminars feature expert guest speakers will cover a range of relevant topics: Commuting 101, Gear/Safety/Lighting, E-Bikes, DIY Maintenance, Family Cycling and CYCLE EUROPE. Our experienced commuters will be on hand to share insider tips and highlight the benefits of bicycle commuting. The Daily Seminars take place at noon every day in the Rally Tents. We also have seasoned mechanics who can perform on-the-spot repairs and conduct safety checks. If you're new to commuting and would like someone to show you a route from your house to the base, our "Ride Guides" will be happy meet and ride with you to or from work showing shortcuts, safe bicycle lanes, and best commuter paths. We also will give away over $500 in prizes during the Thursday seminar. You will want to be there and be sure to register. These prize are entirely donated by our volunteers and are designed to help your commute and to make the event more exciting.
Bike To Work Week 2017 will take place Monday through Friday, May 15-19 at Patch and Kelley Barracks. We will distribute information flyers and posters with the details including different topics daily, which will be presented at both locations.
Daily Seminars at each Rally Tent from 12 - 1 p.m. and topics include:
Monday, May 15: "Bicycle Commuting How-To and Choosing the Right Bike"
Tuesday, May 16: "Gear, Safety and Lighting plus E-Bikes"
Wednesday, May 17: "Do It Yourself Bicycle Maintenance"
Thursday, May 18: "Family Cycling" + Prize Raffle
Friday, May 19: "BICYCLING EUROPE--Touring by Bike" + Group Bike Tour
Finally, we'll wrap up the week with a Group Ride adventure exploring the local bike trails while enjoying the regional scenery, food and drinks. This ride departs at 1500 on Friday from BOTH Patch and Kelley and takes approximately 2.5 hours over about 25 miles. We'll finish at a great Biergarten in Tubingen overlooking the Neckar River. There is something here for everyone-so please take this opportunity to explore bicycle commuting and learn how to give it a try.